Preparation:
Step 1 - Clean and Slice Mushrooms
Start by cleaning the King Trumpet Mushrooms gently with a damp cloth to remove any dirt or debris. Trim the tough ends of the stems, and slice the mushrooms lengthwise into 1/2 inch thick slices.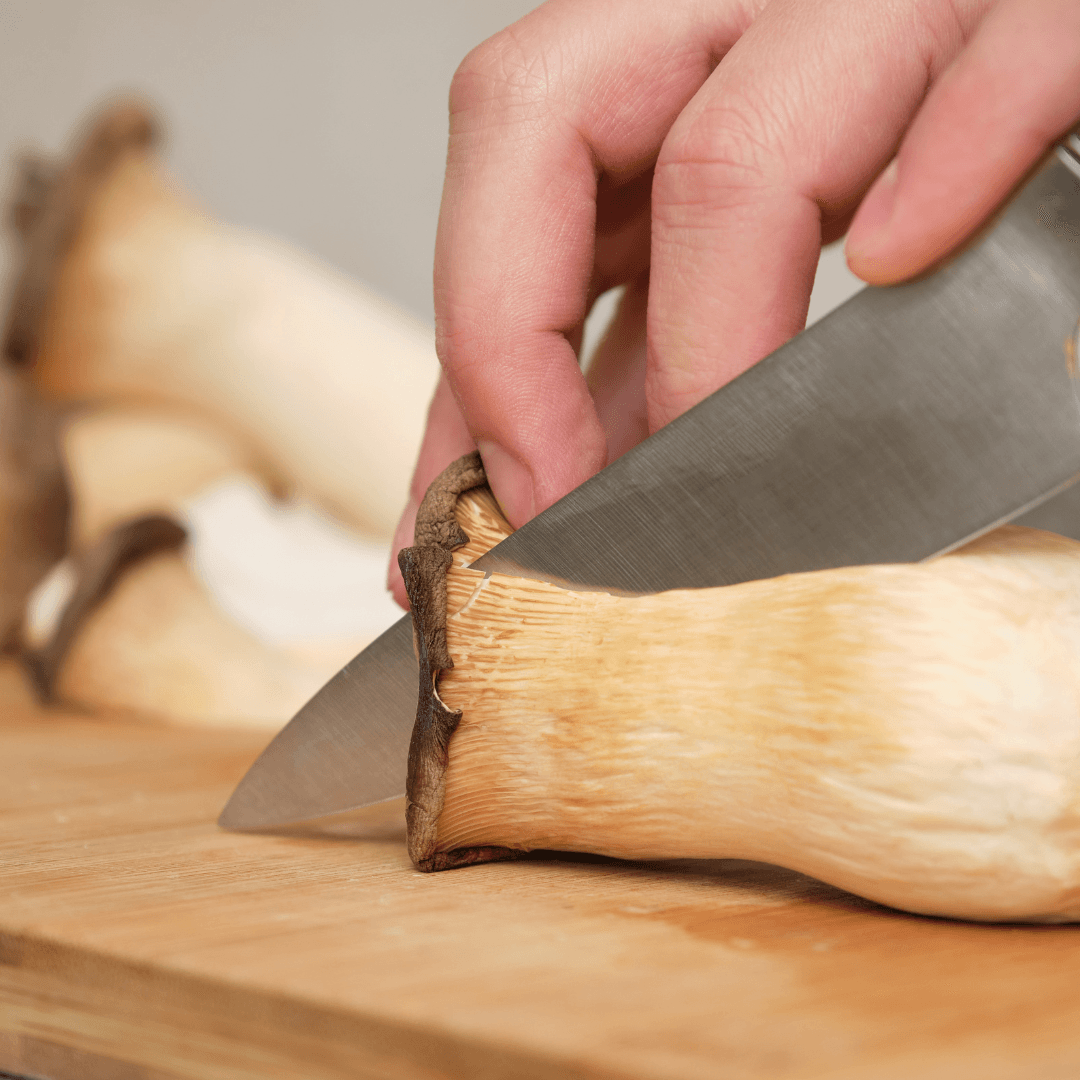 Step 2 - Mix Ingredients
In a small bowl, mix together the olive oil, thyme, rosemary, and minced garlic.
Step 3 - Prepare Mushrooms
Lay out the sliced mushrooms on a baking sheet lined with parchment paper. Brush the olive oil and herb mixture evenly over the mushroom slices. Sprinkle a pinch of salt and black pepper over the mushrooms to taste.
Step 4 - Roast Mushrooms
Preheat your oven to 400°F (200°C). Once the oven reaches the desired temperature, place the baking sheet in the oven. Roast the mushrooms for about 15-20 minutes, until they're golden brown and tender. Take the mushrooms out of the oven and drizzle with balsamic vinegar. Toss gently to coat, then transfer to a serving platter.
Step 5 - Garnish & Serve
If desired, garnish with a scattering of fresh microgreens before serving.
What are King Trumpet Mushrooms?
King Trumpet Mushrooms, also known as King Oyster Mushrooms or Eryngii, are a type of edible mushroom highly prized for their thick stem and delicate flavor. They are larger and have a different shape compared to other oyster mushroom varieties, boasting a long, thick stem and a small cap. They are known for their meaty texture and ability to absorb the flavors of the ingredients they are cooked with, making them a versatile choice for various culinary explorations.
What do King Trumpet Mushrooms taste like?
King Trumpet Mushrooms have a subtle umami flavor with a savory, earthy undertone. Their meaty texture is often compared to that of abalone or scallops, which makes them a satisfying alternative to meat in vegetarian and vegan dishes. When cooked, they offer a tender bite, and their flavor profile is enhanced, especially when paired with herbs, spices, and simple seasonings.
Where can I buy King Trumpet Mushrooms?